Ivan Ssebuuma
fashion
Meet the 10 Seed Show Finalists and Their Work Presented on Day 1 of Kampala Fashion Week 2017
By
|
The Seed Show finale is Kampala Fashion Week's opening show, and also one of the most anticipated events of the year. This year's edition held last evening on day 1 of Kampala Fashion Week. Seed is an initiative of the US Mission in Uganda in collaboration with Ras Kasozi to nurture and groom 10 designers whose work is then presented on the opening day of Kampala Fashion Week.
It's a great opportunity for new designers to be put on a platform as influential as Kampala Fashion Week to follow in the footsteps of former winners Olivia Nanfuka and Say-Mandah who are showcasing today (day2 of the event). The highlight of the show was of course the crowning of the winner Joanita Nakigudde whose creation was made out of maize cobs and egg shells. The young designers traveled to Fort portal to get extensive training in the use of organic material and dyeing.
In his words, Ras Kasozi the brain child of the project expressed his satisfaction that finally he has mentored a new breed of designers who will most probably take the mantle from him when he retires.
Meet the designers and their work
Jamila of HMZ House of fashion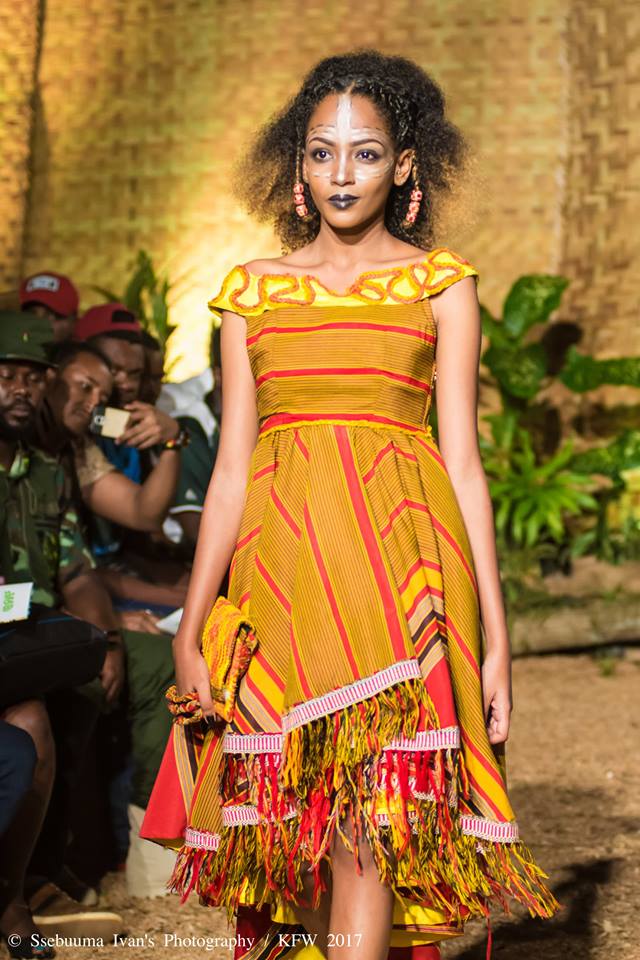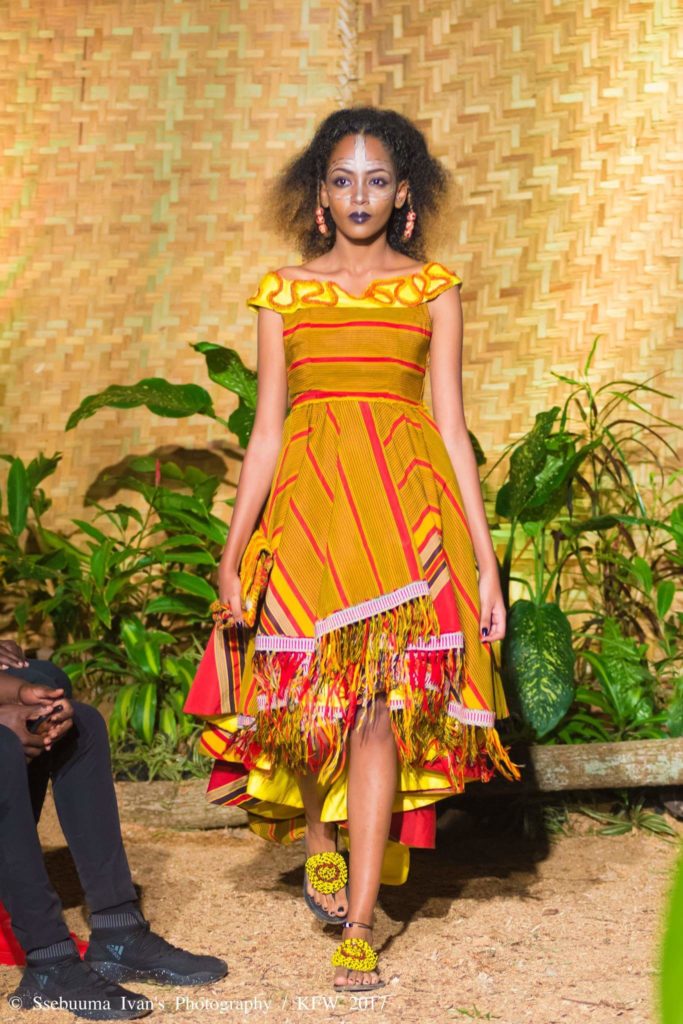 Jamila was inspired by the beauty of the kikoyi fabric. She incorporated that with her love for asymmetry to create a dress that's modern in appearance but also with the key elements of our heritage.
2. Fatima Mazzi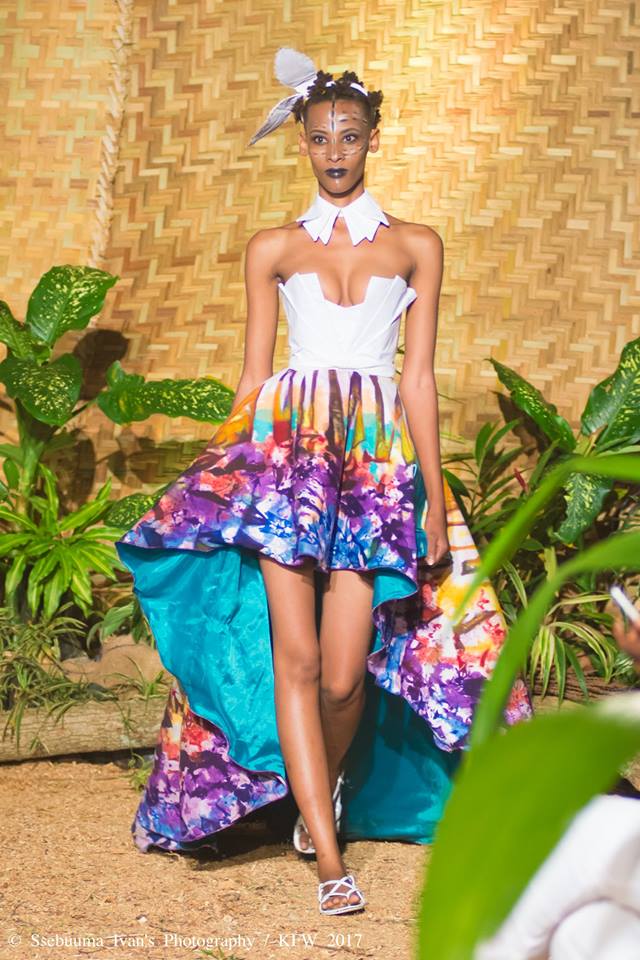 Mazzi used cabbages and lemons plus more to create a print that would leave a lasting impression. The dress featured an asymmetrical hemline with strappy detail at the back of the bodice.
3. Nakigudde Joanita (The winner)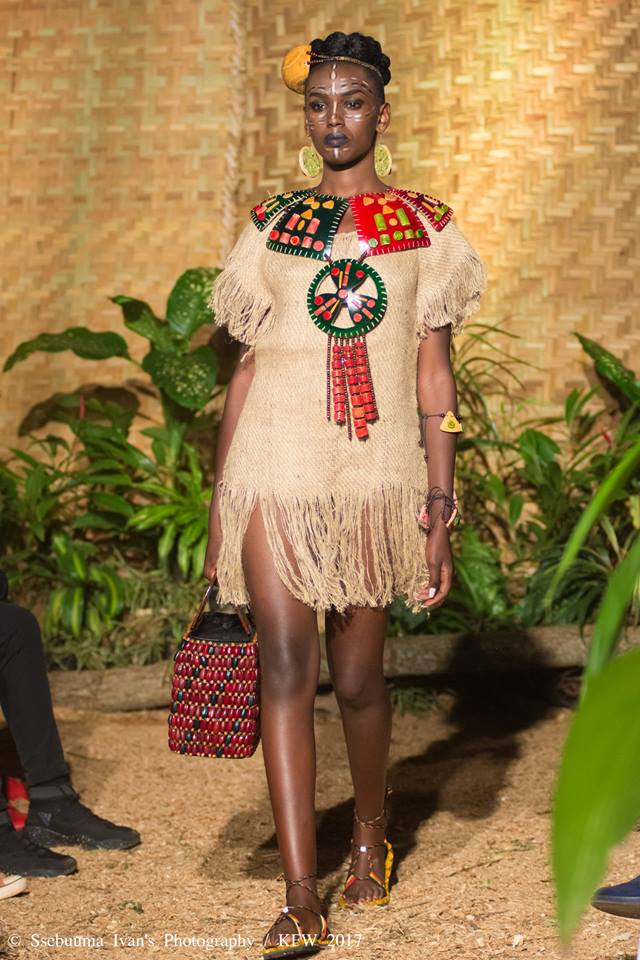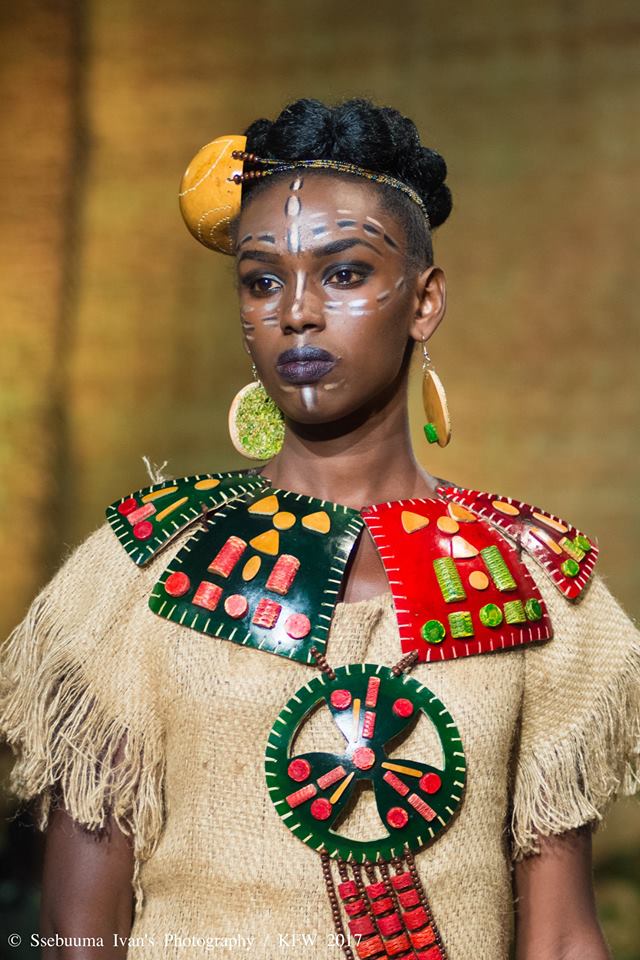 Nakigudde used maize cobs, egg shells and other organic material to create a fringed mini dress. She chose this material because it's everywhere. She created a gigantic neck piece and a basket bag to accessorize her look. This look emerged best according to the judges.
4. Musima Robert
Musima used banana fibre, broom sticks and papyrus sticks to create a his design.
5. Christabel Kente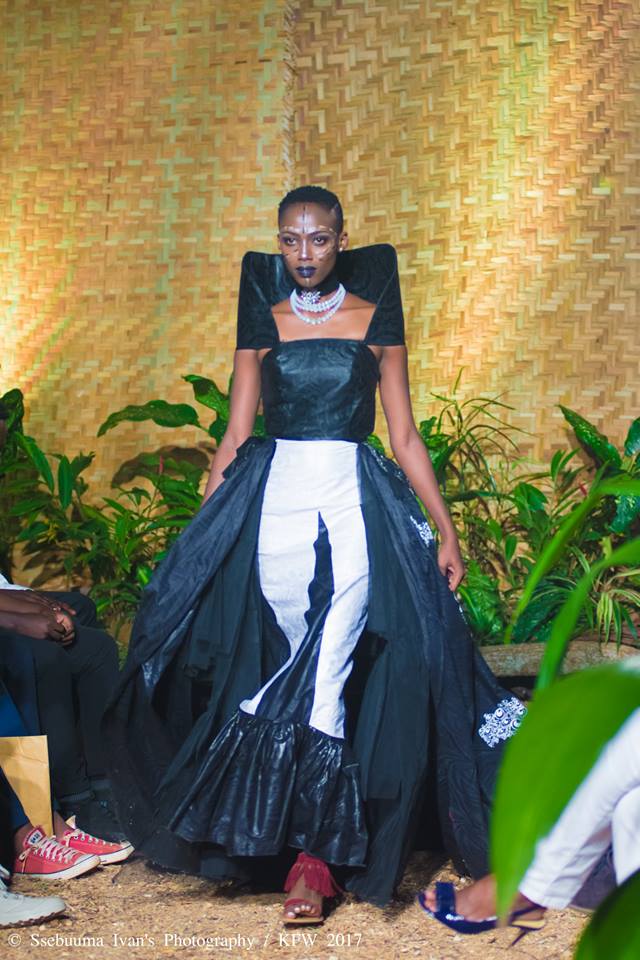 She describes herself as a self taught designer. Her inspiration was the women in Fort portal whose lives have never been the same again after the ADF insurgency. She wanted to tell this story through a dress.
6. Latima Kasumba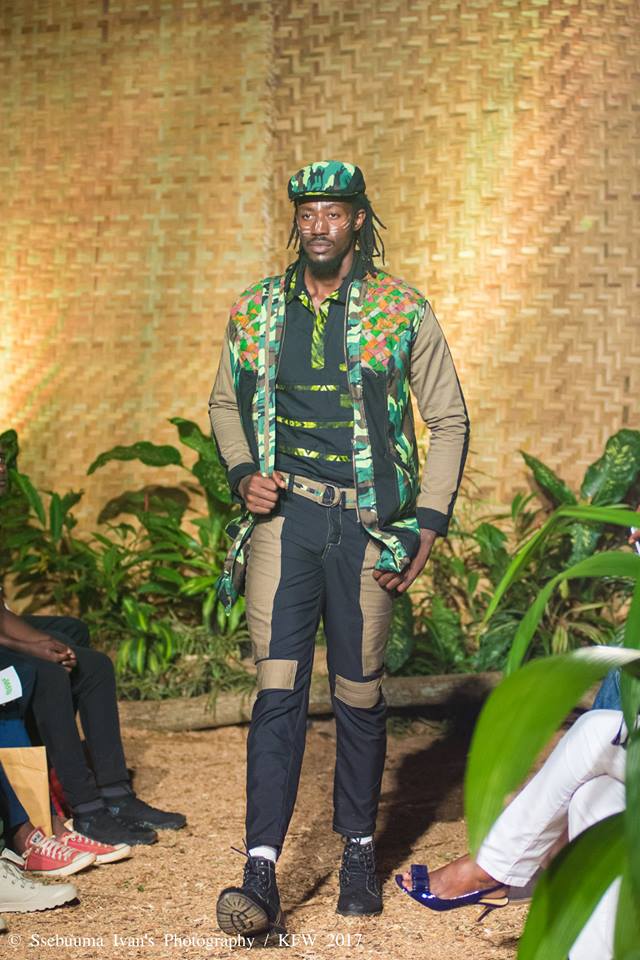 Kasumba used natural dyes to communicate his experience in Fort Portal.
7. Nsimire Kashengesha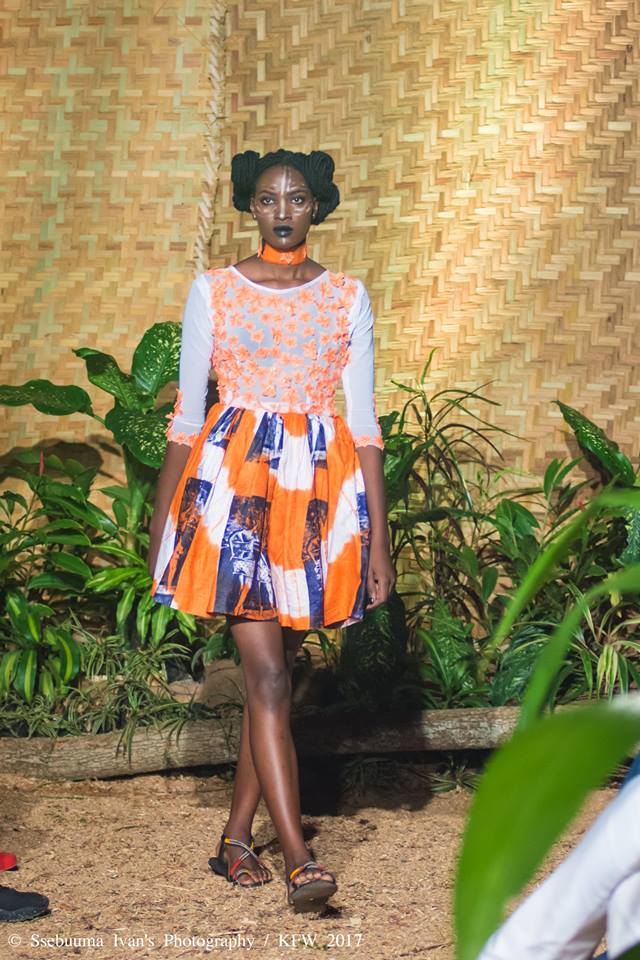 Kashengesha used oranges to produce her design.
8. Milly Nabirye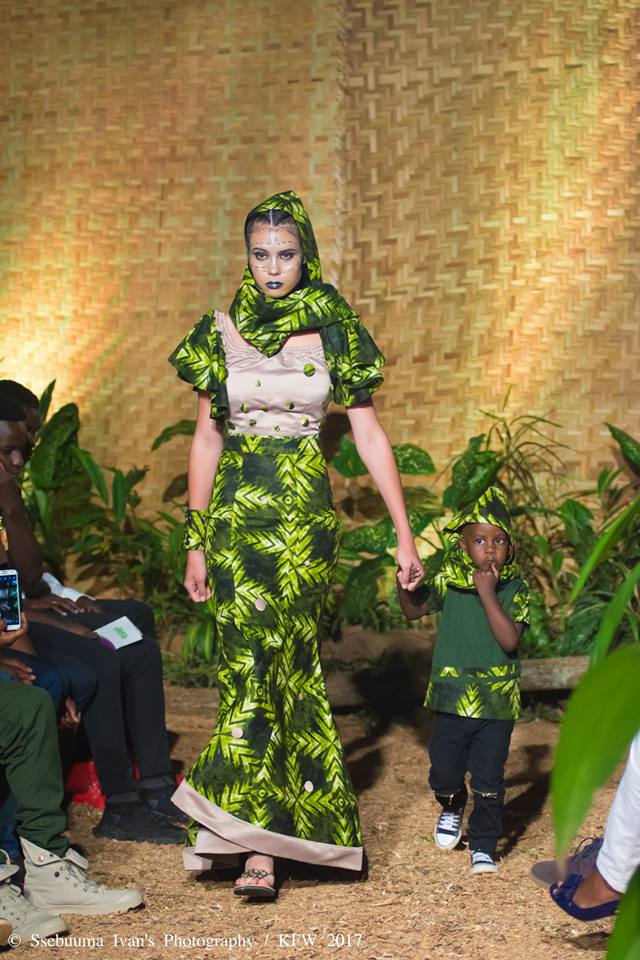 Nabirye worked with the wonder plant because it produces many colours. She chose the colour green  because of her love for nature.
9. Eva Nakibirango
Nakibirango also worked with the wonder plant to produce four beautiful colours which she worked with create her look.
10. Ibrahim Kasoma
Kasoma describes himself as a poet. He used seeds, roots, leaves and ash to create a print that tells his story.
What are your thoughts on their designs? Sound off in the message box below.
satisfashionug@gmail.com