Style
7 Ugandan Designers To Watch in 2017
By
|
Fashion in Uganda is flourishing, if the work we've seen this year is anything to go by. Design labels are turning into highly respectable brands, attracting attention from all over the world. This is thanks to platforms such as Kampala Fashion Week which foster talent and creation of high-quality garments.
This year's edition of Kampala Fashion Week brought to our attention a number of emerging designers who are at the periphery of taking the industry by storm.
Fashion brands have also benefited from the newfound celebration and respect from celebrities and influential personalities, wearing their designs at red carpet events and social ceremonies. This has provided their work tons of media coverage on social and traditional media. The success of fashion and design in Uganda is actually slowly getting realized, and these brands that have made a mark on the industry this year are the reason for this success.
Meet the designers whose work we anxiously look forward to seeing in 2017.
Anita Beryl
Anita Beryl of Beryl Qouture has positioned herself as the go-to dressmaker for exquisite red carpet looks. Her label which started as a bridal house has dressed some of the best-dressed women this year, attracting massive PR in the process. She has also featured at a slew of fashion weeks this year, Accra Fashion Week and Swahili Fashion Week being some of them. We look forward to the surprises she has under her sleeve in 2017.
Kasule Raphael of K-Rafael
Kasule Raphael designed the outfit Uganda's 2016 Olympic team wore to the opening ceremony of the sports event, and the team was later named one of the best dressed at the event. He went on to design Sauti Sol's costumes when they performed in Kampala early this year. His recent buzz was for designing Sheebah's costumes for her maiden concert held early this month. The designer boasts a high attention to detail and inspiration from youth culture.
Bobbin & Seif
The dynamic design duo is based in Kenya, but this year they've managed to make their mark on Kampala's design scene, first with their collection presented at Kampala Fashion Week. They also featured their work at Accra Fashion Week and were named Best New designer at the Kenya Fashion Awards.
Lukwanzi
The newly established label seeks to marry elegance with modesty. Their Kampala Fashion Week collection was received with rave reviews.
TuRah
The label presented their collection titled mud blueprint at Kampala Fashion Week. It was inspired by African architecture in the process making classy and approachable designs. The label is targeted to young women aged 25 t0 40 in the middle upper-class category. Fashion blogger Lamic Kirabo arrived at the 2016 Abryanz Style & Fashion Awards in a creation by the brand
Kkoolo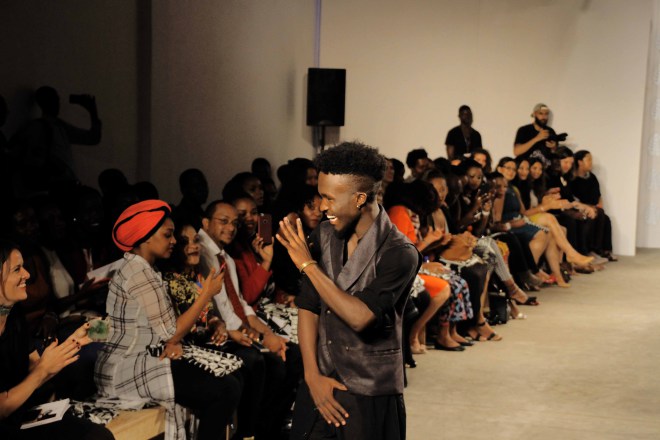 Kkoolo, an afro-urban label made its KFW debut with a collection filled with Samurai inspired outfits, long coats and jumpsuits with dandelions, and lots of leather. We can't wait to see what the youthful brand has up their sleeves for 2017.
NFK Clothing
NFK Clothing by Olivia Nanfuka is one of the break out brands of the year. The designer was the winner of season one of the seed show, and this has been her first year in professional business. However, her work is gaining a lot of attention. 2017 is certainly going to be big for her.
Cover photo: Kkoolo at Kampala Fashion Week 2016 
satisfashionug@gmail.com